Attending a Performance
Oper Köln at Staatenhaus
ARRIVAL WITH Deutsche Bahn

ARRIVAL BY PUBLIC TRANSPORT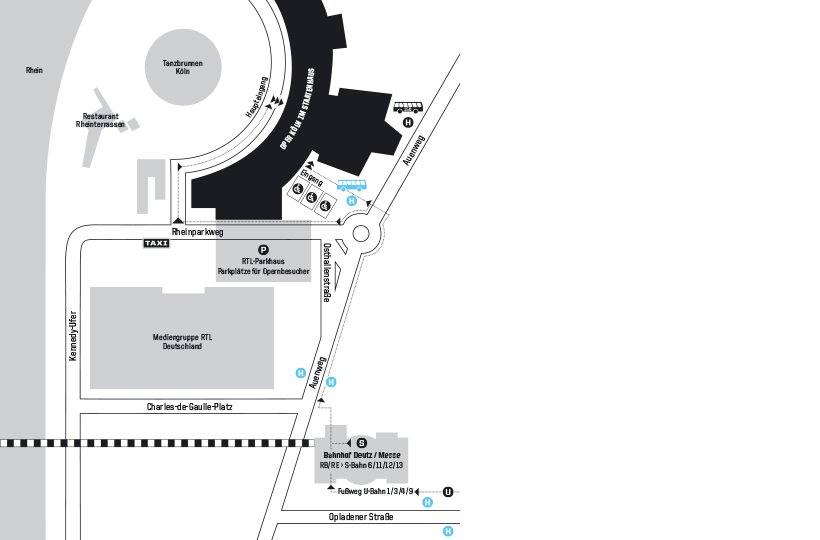 Accessibility
REDUCTION IN ADMISSION PRICES
People with a severe disability and a degree of disability of 100% or a "B" in their disability certificate receive a 50% reduction on the ticket price upon presentation of proof. An accompanying person receives a free admission ticket if the letter "B" is noted on the disabled person's pass. When booking tickets, please indicate if you need a wheelchair seat, will be arriving with a walker or having walking difficulties.
Please understand that, for organisational reasons, tickets for wheelchair users and accompanying tickets can only be purchased directly from the Bühnen ticket service. Of course you can order the tickets from us by telephone.
ACCESSIBILITY
Disabled parking is available in the RTL car park in the direct vicinity of lifts, which provide barrier-free access to the opera foyer. Additional disabled parking spaces are available at the side entrance. Barrier-free access to the foyer is also possible from here. The European parking card for people with disabilities is required to use these parking spaces.
In Auditorium 1, Auditorium 2 and Auditorium 3 you can make use of our wheelchair spaces on request. The StaatenHaus has one toilet for disabled persons and several toilets at ground level. Oper Köln is working on continuously expanding its offer for guests with physical disabilities.
Gastronomy
LUDWIG IM STAATENHAUS... GASTRONOMY FOR YOUR SPECIAL TIME AT THE OPERA.
We adapt to your wishes and needs as much as possible and wish to give you a wonderful time with our friendly, courteous and above all timely service and make your interval at StaatenHaus even more enjoyable.
We are also happy to welcome you one hour before the start of the event with selected drinks and freshly prepared snacks. Of course, we also offer this service during the interval. In order to plan your visit to the opera in advance, you are welcome to make a reservation for the drinks and food you would like from the menu, which will also guarantee you a seat in the foyer. You can have your drinks/snacks outside in the arcades (main entrance) or at the bistro tables in the foyer. The offer, including a link to order by email, can be found here. For group reservations and smaller receptions, we will be happy to put together an individual offer for you. Simply let us know your wishes in advance and we will contact you with tailor-made proposals. We look forward to seeing you – in the ambience of opera and gourmet delights!
The team from Ludwig im StaatenHaus
PRESS REVIEWS
"An opera evening is not only about enjoying the art, the interval has to be bridged – gladly with refreshments from the bar [...]. This is brilliantly solved in the StaatenHaus, where visitors are welcomed with drinks halfway to the foyer. The service at the bar is excellent, quick and competent, there are hardly any queues."
// Opernfreund, 14.12.2015 by Jochen Rüth
"The counter for drinks is so long that there is hardly any congestion. The staff is very friendly [...]"
// Express, 17.11.2015 by Christof Ernst
Brief introductions
In the 2023.24 season, short introductions to the following productions will again take place:
"Les Troyens (The Trojans)", "Miranda", "Der Zwerg / Petrushka" "La Cenerentola", "Luisa Miller", "Der fliegende Holländer", "La bête dans la Jungle (The Beast in the Jungle)" and "Giulio Cesare in Egitto".
The short introductions begin ca. 30 minutes before the start of the performance and take place in auditorium 3.
Programme by post
We would be delighted to send you our regular playbill by post. The sending is free of charge for you.
Please order playbills stating your full address at marketing@oper.koeln
Playbill information
On this website you will find dates, synopses, trailers, casts, artist information, excerpts from reviews, photos and much more for all performances.
Our monthly playbill provides you with up-to-date information. The newsletter gives you even more information; register here: marketing@oper.koeln
Follow our social media accounts and exchange ideas with other opera fans on Oper Köln's Facebook, Instagram and YouTube profiles:
facebook.com/operkoeln
instagram.com/dieoperkoeln
youtube.com/OperKoeln
Further information
You can find our General Terms and Conditions here.
In particular, we would like to point out that it is generally not possible to return tickets that have been bought.
There is no entitlement to admission for late arriving visitors. As a rule, you will be admitted after the end of the scene or act by the evening service or only after the interval.
FOR LEGAL REASONS, SOUND, IMAGE AND FILM RECORDINGS ARE NOT PERMITTED DURING THE EVENTS.